Hey loves! I'm so excited to introduce the first of our lovely WWW ladies. I like to call her
The Amazon.
Why, you ask? I mean, seriously, you have to ask?
Look at her.
Ah la la la la la!!!
Isn't she flawess? Some would even say Lawless (chuckles maniacally).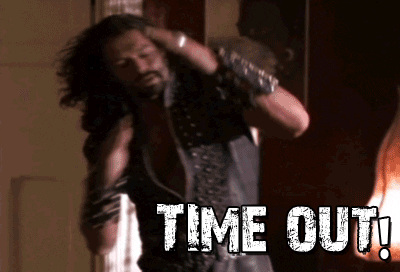 Okay, okay. Fine. But the person I am introducing is way better. The beautiful and talented Andrea Domanski.
Isn't she gorgeous? Wife, mother to two beautiful children, owner of a super cute pooch named Mojo. I'm not entirely sure how she juggles it all and still manages to write such a fantastic series of books. I'm in awe of her talent and skill. And I can't wait to learn more about Mirissa and her fellow preternaturals.
Who's Mirissa? Only one of the most kickass Young Adult heroines to be found. Need a good book to enjoy? Love a seriously impressive tale about Amazons, mythology and women who can take care of themselves? Then you definitely need to check out
The Omega Group
series. Take a mosey over to
Andrea's website
to find out more.
I'm still pretty sure that Andrea is an Amazonian goddess herself. In fact, she just admitted to me that she is a red belt in Tae Kwon Do. She also used to run her own business (a dry cleaning pickup and delivery service). You guys… You know what that means? Easier for her to clean her clothes from a night out hunting evil baddies and just generally protecting the streets of the stunning Savannah.
Seriously though, Andrea has some major talent and I'm so thankful for her presence in the WorldWiseWriters group. I know she always has my back and she steps in with just the perfect piece of advice when I need it the most. I don't know how she does it, but guys, she's a genius. Definitely talked me off a ledge more than once. And on those hot and humid Savannah days, when you just want to lie somewhere under the shade, she is definitely a breath of fresh air.
So without further ado (except to say, you can buy her novels
here
and
here
!), I'll let her do the talking and answer a few questions. I'm off to go practice being very good, in hopes she will teach me how to throw the chakram.
The Questions:
1) Why write? What's your inspiration? And when did you realize your ideas had merit?
I've always been a lover of words. Even as a child I would put so much more effort into a simple English essay than I would a science project. As I grew older I found myself getting my "writer's fix" by writing speeches for my husband. Eventually, a friend told me I should write a book. Of course, I thought she was crazy – until the first day I didn't.
Proof her friend was definitely not crazy.
2) Who is your favorite author/ what is your favorite book? (If you could live in a book, which would it be?)
I am not what you'd call loyal when it comes to picking a favorite author. I tend to switch from one to another depending on my mood. Right now, I'm all about James Rollins. I love the way he takes factual accounts and spices them up until they are spectacularly engaging.


3) Are you an outliner, or a write-it-as-it-comes-er?
When I grow up, I really want to be an outliner. I'm getting there, but I still have a ways to go. When I started page one of Crossfire, I quite literally had no idea what was going to happen on page ten. I wrote the entire book that way. With Greco, I had an overall idea, but no specifics. Now with Rogue, I'm actually working with the barest hint of an outline. Who knows, maybe the next one will be completely outlined.

4) Which of your characters is the most like you?
Goodness, I don't think any of my characters are like me, but each of them has a tiny bit of me in there somewhere. Mirissa is stubborn, Steve is a tough guy with a soft spot, Myrine would sacrifice anything for her family, Myrick spouts less-than-appropriate jokes, and Carter protects his heart at all costs.


5) Where do you write? Name three objects in the space and explain why they are significant (do you hold it when writing? Fiddle with it? Look at it?)
The beautiful Savannah view.
I write in my sunroom. I don't have a desk, just me, my couch, and my laptop. It's not the objects in the room that make me want to write there (although the couch is really comfortable). It's the view. When I'm trying to work out a scene I find myself staring out the window at the marsh and the river. It's so peaceful out there with nothing but seagulls to distract me. Also, one end of my couch belongs not to me, but to my dog. He curls up (all 80 pounds of him) and lets me rest my feet against him while I'm typing. If I accidentally leave my note pad sitting in his spot, he'll stare at me until I move it so he can jump up. I think everyone needs a peaceful place to write and I've found mine.

The adorable Mojo.
Thanks for reading everyone. For the next introduction: Hannah Sullivan, come on down!